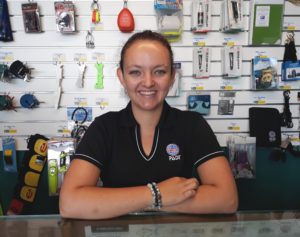 Hey there –  my name is Aimey. I am from a small town in South Auckland called Waiuku.
I started diving beginning of 2019 where I finished at Rescue Diver at Auckland Scuba.  I then went travelling for 6 months to then return to do my Instructor Development Course.  I qualified as an instructor in June 2020. I then helped assist  with courses at Auckland Scuba between lifeguarding at the local pool and music teaching before starting work here at Dive HQ.
During my break between studying I participated in camp America working as a boat driver/lifeguard for 3 months teaching; sailing, wake boarding, taking kids banana boating…in Minnesota. I then travelled around the USA for a month. My love for outdoors grew when I was 16 where I went on a world challenge trip backpacking around Nicaragua and Costa Rica for a month. Since then any day off I get has been spent hiking, swimming or exploring with mates.
I have been on multiple wreck dives Including the Canterbury, Waikato and Rainbow warrior. My favourite dive site currently is up north at the poor knights which I would highly recommend if you've never been. My favourite marine life I have seen while diving was humpback whales. I enjoy underwater photography, drift dives, seeing new marine life and visiting new dive sites.