Over the Easter weekend our Dive Club made a trip up to Tauranga to do some warmer diving. What a change, to be able to see 20m instead of five. We stayed at a Backpackers called Hugo and Carters. Which was a small, modern backpackers, situated only 5 minutes from the Marina!
Day 1.
The first day was an early start. We left our accommodation and headed to Dive Zone Tauranga's Shop to meet the crew. Tony who is the owner greeted us, introducing us to Kane who would be our guide for the trip.
After we had signed our paperwork and had all been introduced we headed off. Excited to dive we talked about the many sites that we would come across. We were headed to Motiti Island. The ride out was smooth and the sun was beating down on us. The trip out was short in comparison to the other dive sites, only taking around an hour to get there.
Our first dive would be on the Taioma, a tug boat that had been wrecked off the side of the island. The guide told us the story of its history and what it had done in its life time. There was only one problem, the buoy that was placed on the wreck had vanished, meaning we had to try and use the sonar and our eyes to find it. With everyone geared up we all jumped in. The first thing we all noticed was how warm the water was. some of us didn't have hoods on or gloves and we were still warm.
We descended on the anchor line as a group with the knowledge that somewhere below us would be a wreck, the boat hadn't found it but we were determined. We dropped down to 22m and were amazed at the vis, roughly 20m. After we grouped up the guide took the lead and set off to find the wreck. Unfortunately after 20 Minutes of searching we hadn't found it so the divers ascended.
The second dive site of the day was in a bay adjacent to the wreck. The max depth was 18 Meters and shallowed up to 2m. We took our time looking at the new but familiar landscape. we were still treated to great vis even though we were closer to shore.
OLYMPUS DIGITAL CAMERA
Day 2
The second day would turn out to be a big one. we were headed to Mayor Island. we headed out at lunch time, knowing it would be a long trip. 2 hours in total. At least the sun was out the whole time, it was time to get a tan! The wind had changed direction that day so we had a bit of rough swell in patches but once we were at the island we found a sheltered spot to get geared up.
Our first dive site was a pinnacle reef sitting in 50m of Water, the visibility was Amazing. 25 Meters. The reef was covered in a thick layer of seaweed making it look like it was almost moving with the swell. Schools of pink Mau Mau and other fish were all over the reef. After we all completed our dive we set off for another similar site just off the coast. Where we were on the hunt to see some obsidian.
We parked up in a sheltered bay after our day dives and dinner was supplied buy the Boat. We ate and talked whilst waiting for the sun to go down so we could do our night dive. We dove off the boat where it was still sat from before. Diving around other boats we joked about coming up to the wrong boat and scaring the poor souls on board. It was a very shallow dive compared to the last two, around 10 Meters. We played around a cliff wall looking for interesting things. we came across a few Baby Octopi and Rays.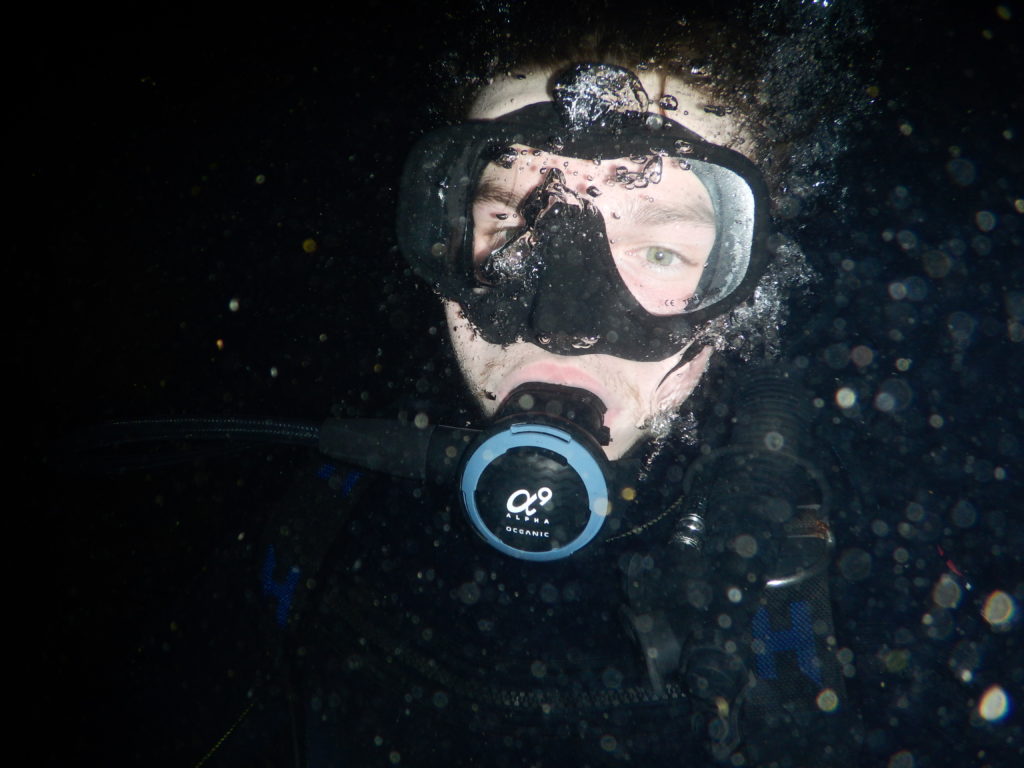 Day 3
Our Last day had Beautiful weather again, we were going back out to Motiti as the wind had changed direction again. The skipper decided we would dive on some new sites as they were the most sheltered.
Turns out it was a Leather Jacket Nursery, there were so many of them. Big schools of Leather Jackets which is extremely unusual. They were also oddly friendly, i even got a couple of kisses on my face from them. Yet again we had great vis and lovely warm water.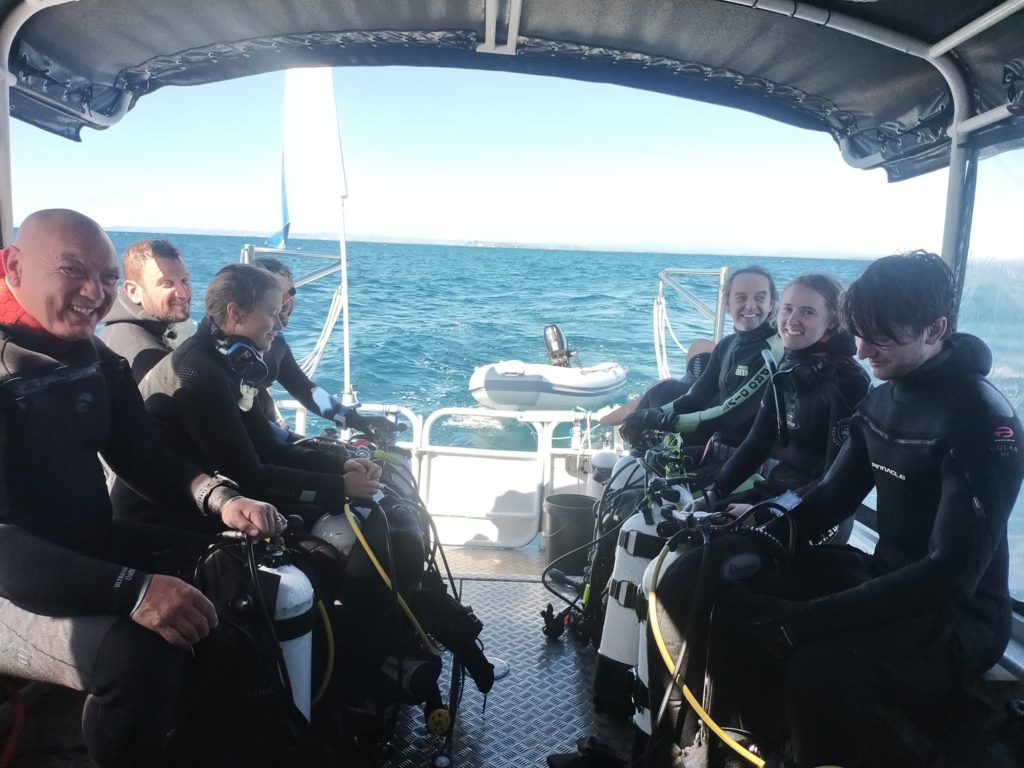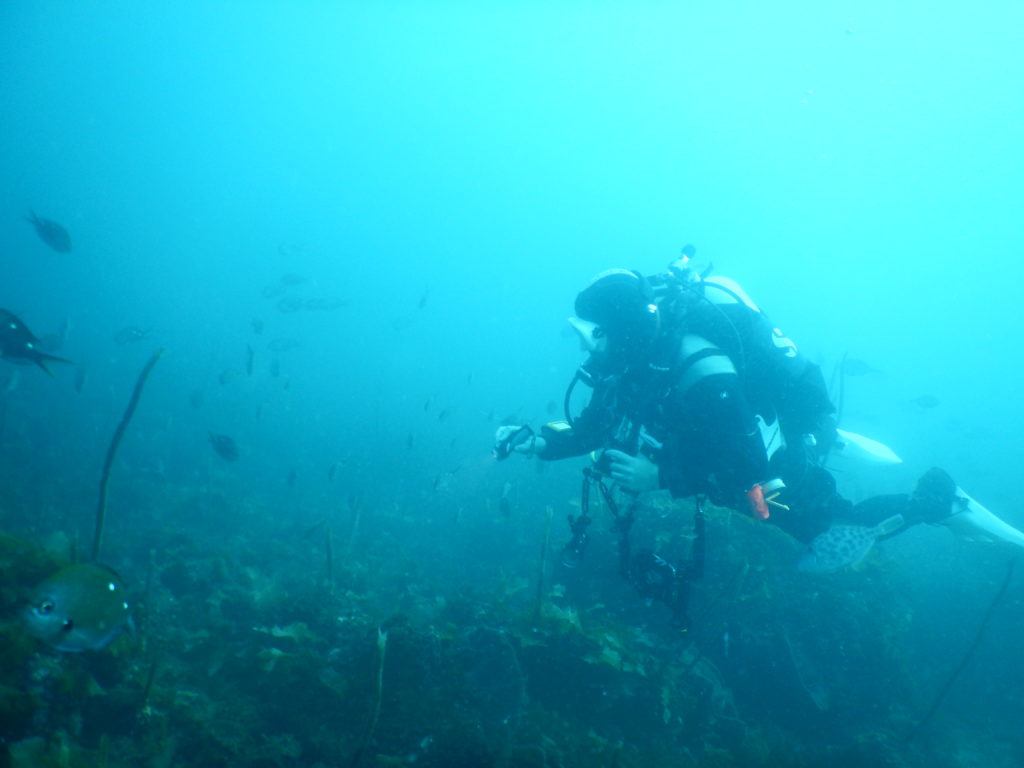 Our Trip came to a conclusion at Tony's house where we debriefed over homemade pizza and a few cold beers. What a great weekend! The diving was great and made better with the amazing crew we had. A big thank you to Dive Zone Tauranga.
-Matt