The best thing about Shearwater Dive Computers is that while they are very technologically advanced they are intuitive to read and very easy to use. They support Bluetooth connectivity for ease of dive logging, wireless charging and offer great screen customisation to show the information you require for your dives – you can even pick the colour!

Don't believe us? We are Wellington's only Authorised Shearwater Demo Center and have all models available for a test dive. As part of our Dive Club you can trial any of these computers free of charge on a club dive.

Wristmounted Peregrine

Peregrine Console
The Peregrine is Shearwater's most basic computer, however it's functionality is far from basic. Like all Shearwater products the Peregrine has an easy to read LCD display in colour. It's simplicity makes it suitable for any diver at any level. If you want to see something you prefer on your screen you can customize it to what you like. The only downside is that the Peregrine does not support air integration/transmitter and has no inbuilt compass. It also only supports 3 gases compared to the other computers that support 5. Its easy to use with its two button interface. This computer is great for a beginner diver or recreational diver but it still has its limits.
Wristmounted Perdix

User Replaceable Battery
The Perdix can be seen as the big brother to the Peregrine. It supports more tech diving functions and is more suited to someone with these qualifications. It has all of the software features of the Peregrine and it also supports trimix and fixed pp02. The Perdix comes with a built-in compass and has the option to connect to a transmitter for air integration. One big difference with charging is that other computers support wireless charging whereas the Perdix uses AA Batteries. This computer is great for anyone taking a professional path in diving or aiming to do tech Diving.
Teric

Teric

Teric Compass Mode

Customised Watch Faces
The Teric is a great dive watch for any level. It supports wireless charging and Bluetooth. The display is bright, clear and very easy to read. You also have the choice of modes, Recreational, Technical, Rebreather or Free diving. It is air integrated and can connect up to 4 transmitters. The sleek design also means it can be worn as an everyday watch, with 50 Hours of battery life. The Teric also has a built in compass like the Perdix. This is a great computer for any diver at any level.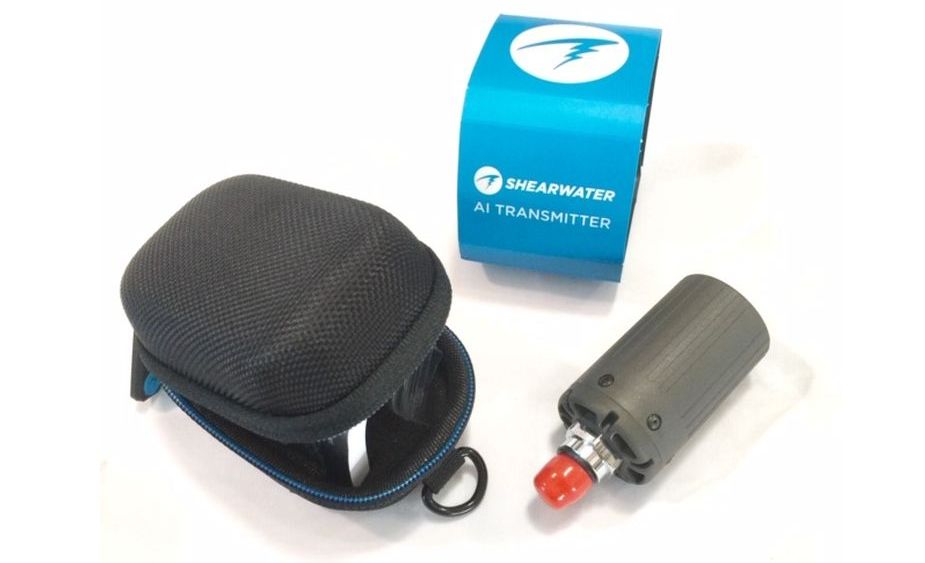 The Shearwater wireless transmitter screws in to the high-pressure (HP) port of a first stage regulator and can communicate with your dive computer to display the cylinder gas pressures without an HP hose.
This transmitter is compatible only with those specific models of Shearwater dive computers that support hoseless air integration, including Perdix, Teric and NERD 2 models. The transmitter is rated for depths up to 150 m, and has a user replaceable CR2 photo battery.