Nestled away at 38m underwater in Port Gore is the MS Mikhial Lermontov. The Lermontov is one of the world's largest wrecks easily accessible for divers. I shot down there with a group of club divers over Labour weekend to explore this behemoth and try to complete my Advanced Wreck Diver training. The history behind the Lermontov and the story around its sinking is almost as intriguing as the wreck itself. The nature of how the Lermontov came to sit on the bottom brings with it a raft of hazzards, for this reason I thought this would be the perfect wreck for me to begin my Advanced Wreck Diver training. I spent four days crawling through its passages for a total of 8 incredible dives – which I can't wait to get back and do again.
If you google "Mikhial Lermontov" you are likely to find early 19th century Russian poetry, rather than the sunken Russian cruise ship the MS Mikhial Lermontov. The Lermontov ran aground in the early evening of the 16th of February, 1986. There is some debate around the specifics of why the ship ran aground, what is clear is that around 5pm the local pilot took the Lermontov through an extremely narrow channel that was known to be dangerous. As the ship passed through the channel an almost 6m gash was ripped open on the portside. In the following hours as the ship began to sink, it was evacuated of all passengers and crew except one, a crew member Pavel Zagladimov was never seen again and to this day is presumed dead. By all accounts, what happened during those few hours before the ship sank can only be described as a shambles. No official mayday was issued because of a possible language barrier, there was debate over who was now in charge and questions have been raised around the condition of some of the emergency equipment. Thankfully many local fisherman and an Interislander ferry were close at hand and came to help. For me the story of how a wreck came to be, as such, is all part and parcel of the allure or the "lust for rust" that wreck divers talk about.
I first dived the Mikhial Lermontov in 2010, I was immediately intrigued by this beast, a relic of the Soviet Union that was older than I was. At that time I had only just started my instructor training and had never seen anything like it before. The Lermontov lies on its starboard side, but it is not perfectly on its side, rather it sits at a 40 degree angle. That may not seem all that significant but trust me, when you are trying to navigate through the corridors and passages even the slightest deviation from vertical and nothing looks familiar. Doors no longer look like doors, tables and chairs bolted to the floor look more like some mechanical feature than a place to sit and lounge. We often talk about how easy it can be to get disorientated on a given dive, well on the Lermontov the challenge is to find any sort of orientation – let alone keep it. An experienced guide here is totally invaluable. In the 10 years since I was last on this wreck there has been a significant change.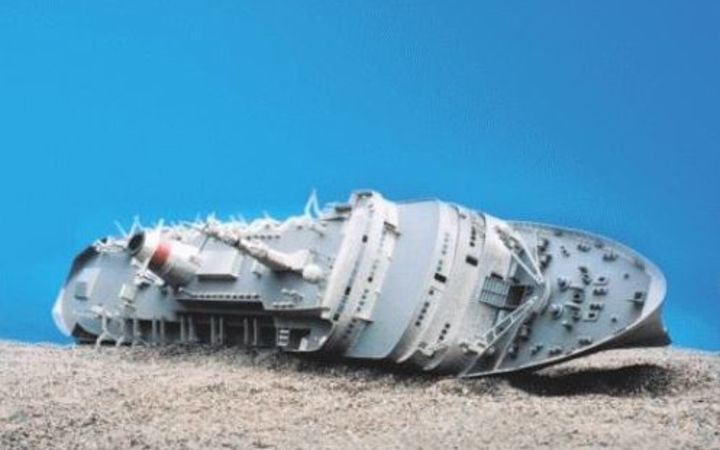 During the Kaikoura earthquake in 2017 the top three decks sheared off from the main body of the ship. For the more advanced technical divers this had opened up opportunities to dive in areas of the ship that had previously been unexplored. The Lermontov is what many divers call a REAL wreck; it was not purposely sunk for divers, there are relics of its life above water scattered through the halls and most of all there is no end to the unseen hazards and risks involved in diving some parts of the ship.
My goal in returning to the Lermontov was to join the ranks of those advanced wreck divers and begin my path to being able to explore some of the more restricted areas of the wreck. I had signed to do the TDI Advanced Wreck Diver Course and I had already completed 3 other technical diving training courses in preparation to be able to do the course on this wreck. The course is designed to weed out thrill seekers and weekend warriors and is aimed at those who have the experience, knowledge and full understanding of the potential risks. Almost every diver training agency has some form of recreational wreck diving course. The primary difference between these and what I had planned to do is the allowed distance from the surface. A recreation course from the likes of PADI is a fantastic course that can open up a whole new world of diving but an important safety limitation of this course is that you are not allowed to enter a wreck and progress past a point where you are more than 40 linear meters from the surface. Basically, if a wreck is resting in 10m of water you can enter the wreck 30m, if it was resting in 25m of water you should only enter 15m. The Advanced Wreck Diver course removes this limitation but with that comes the need to carry independant air sources, twin tanks or sidemount as a minimum. Each dive we conducted was to test and practice a different element of safe wreck diving beyond the 40 linear meter limit or practice emergency situation management. This is a fantastic course and it really puts your dive skills to the test. 
Each day we made two dives, starting at 9am. The first day was very much building our familiarity with the wreck. We practiced S-Drills and pre-dive checks before heading down along the port holes then over to the stacks (chimneys) . I was surprised by the amount of loose sheet metal that was obviously part of the damage caused by the Kaikoura earthquakes. From there we practiced running lines on the exterior of the ship to hone our skills and identify any poor techniques before heading inside the next day. Day two saw us running a line through the Bolshoi Lounge. As we ran our lines through the gloom and murk we were placing line arrows along the way. The purpose behind these arrows is to make sure they always point to the nearest exit so in the event where you may have to exit the wreck with zero visibility you can just follow the line and be sure you are heading the right way. This dive was a great learning curve for me, when you are tying off your line to an object you should choose strong secure attachment points. One of my attachments was on what I thought was a secure point but later on came loose and broke away, fortunately this didn't cause us any issues but the potential was very real. Day three had us practicing searching for a lost buddy in the wreck. This was a great test but one only narrowly passed. The reality of searching for a lost buddy in a wreck really dawned on us during this exercise as we only found our buddy with one minute to spare. You would think
searching just one or two rooms would be easy, but you have to consider in a wreck you need to search 360 degrees around you. It is perfectly possible that your missing buddy could be pinned to the ceiling rather than stuck on the floor which is not something I had ever trained for in open water scenarios. One of my highlights of the course came on day three, we had to share air while following the line through the wreck with no mask on. This exercise really put our teamwork and communication skills to the test which is exactly what I wanted to get out of the course. Our last day of diving was incredible. We practiced relocating a lost line in a room with zero visibility and also got to make a pass through the dining hall and kitchens. This was a fantastic course and I am itching to get back to the Lermontov and put some of these new skills and attitudes to the test!
Four days diving the Mikhial Lermontov is simply not enough to really capture and experience the grandeur and allure of this massive ship. The story of how it came to lie in the depths of Port Gore only adds to the appeal for wreck divers the world over. The Lermontov has such a variety of dives for all sorts of experience levels making it the perfect wreck to do training on. The Advanced Wreck Course gave me plenty to work on and highlighted the importance of getting to know a wreck. I can't wait to get back down there and have another go crawling through passageways and luxurious rooms to get to know this wreck just a little better.