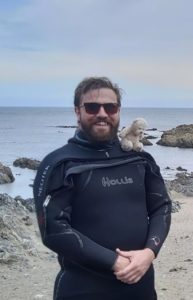 Now I will start this off with an admission, somewhere along the branches of my family tree there must be an actual marine mammal as my cold tolerance is exceptionally high and this does vary for everyone so please do bare this in mind when considering your suit.
But that out of the way lets talk about the suit.
I bought this suit around 2 years and roughly 500 dives ago so I know very well what it is like to own. I am not the kind of person to throw money at something without know everything about it, being a dive instructor, I need to know I can rely on my gear. So before even buying the suit I knew was going to be reasonably good. Little did I know that it would perform so well that I doubt I will ever buy another semi dry. I'll make things nice and easy and do a good ol' pros and cons list.
Pros
· The fit
· The styling
· The range of mobility
· The overall quality
· The pockets
· The durability
· The heat retention
Cons
· The fit
· Ease of entry
· The **** Velcro
I am aware that 'The Fit' is in both categories that is because although
this comes in a range of 9 sizes it is a unisex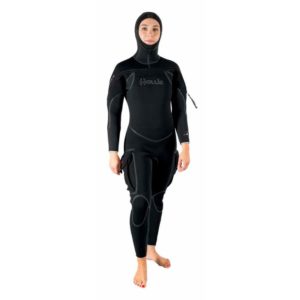 suit and I do find it is a lot more suited to a more athletically inclined male (broad shoulders and narrow hips). The fit on myself is fantastic but I don't feel it would be suited to everyone so trying one is a must. The styling is very clean with tasteful Hollis and Neotek logos on the chest, arms and pockets. Everyone will for sure know what kind of suit you are wearing.
The different thickness of neoprene used in the suit, 8 on the torso 7 on the arms and legs and then 6 on the stretchy bits mean range of movement and overall comfort is fantastic. The zip limits chest movement a little but as long as you aren't pretending to be an airplane then it's only noticeable on land.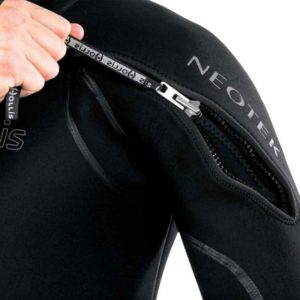 The quality is pretty noticeable the first time you wear the suit and just gets more obvious as time goes on. My suit has more dives on it than most suits dream of and is only just starting to show slight signs of wear. All the seals, both inner and outer, are still spot on despite a little colour change. The zip has also been flawless although admittedly it has been well maintained. Seams are double glued, butt joined with a blind stitch covered by a really smart looking liquid seam. In layman's terms they are bullet proof and look good.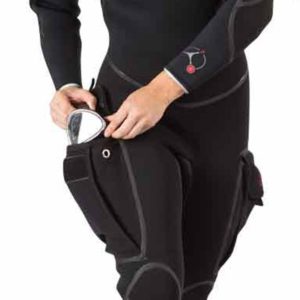 The pockets are a game changer as there are very few wet suits on the market with pockets at all never mind ones of this size. You can fit pretty much anything you need to in them. Want some where to put your spare mask? Chuck it in your pocket. Teaching a course and want your slates out of the way but still easy to reach? Chuck them in your pocket. Entering a wreck and don't need your DPV? Just put it in your pocket.
Oh and they also have handy D-rings sown inside.
The durability pretty much comes hand in hand with the quality. The pads on the elbows and knees don't seem like they will hold up to much but they have done surprisingly well and are only showing a few little nicks even after a fair bit of punishment. The suit still looks pretty much the same as the day I bought it in comparison to my boots, which were purchased 6 months after and they are no longer black or have much of a sole.
And the last pro, heat retention. Oh my is this suit toasty. As mentioned previously I am part walrus so the cold is never much of an issue & it definitely isn't in this. I can happily use this in water as cold as 7 degrees providing I don't spend do much time stationary. You do have to look around like batman (not turning your head but turning your shoulders) because if you don't you get lovely cold water down your neck, but once you have got that technique down its smooth diving from there. The great fit and stretchy neoprene mean there is minimal water movement inside and the wrist, ankle and inner seals do a great job of keeping the cold water out. The 'Thermaskin' liner feels a lot like other high end wet suit liners but I'm not going to complain as it does its job.
Ok – so now moving on to the bad points, & that being said there really is only one main con – the others are just me nit picking.
The fit, as I said in the pros, this one is only really a pro if you are of a specific build which most people are not. They do make short sizes which are designed for different body shapes so it's not all bad.
The chest zip makes donning and doffing the suit initially a little difficult, once you get the hang of it it's a breeze but those first few times you might end up as a sweaty mess.
Now on to my main gripe. Overall, this suit has been fantastic and by far my favourite wet suit. However I feel like they designed the entire suit and went exactly to the budget then realized that they forgot something to keep the pockets closed. I was expecting some nice Hollis branded stainless steel press studs but no, we got Velcro from a dollar store! I will give it some credit, it is reasonably strong for the first few dives. The stitching that holds it in place, not so much. Once the stitching fails, the Velcro crumples up on its self rendering it almost useless. It can be remedied pretty easily by just sewing some more Velcro on but when you are buying a suit of this caliber you shouldn't have to.
In conclusion if you are looking for something to keep you warm in the winter and you don't feel like dropping 2k on a dry suit then the Neotek is definitely what I recommend.
4 and a half starfish (would have been 5 it weren't for that velcro)