A journey through Dusky, Breaksea and Doubtful Sounds in Fiordland.
Twelve intrepid punters departed Level 2 Wellington for the freedoms of COVID – free, wifi – free and cellphone coverage-less Fiordland for an incomparable adventure of epic proportions. Reconvening at Queenstown airport, it was all aboard the minibus for Te Anau. Dinner at the Moose restaurant in Te Anau was as close to an elusive Moose as we managed during our Fiordland escapades.
Thursday morning our strategically packed and weighed luggage was loaded onto the chopper. Mother nature obliged with stunning panoramic vistas across the Main Divide as we travelled in style (helicopter) to our home for the next 5 days, the Tutoko II.
The diving did not disappoint. Unique to the Fiordland sounds is a layer of tannin stained fresh water that sits above above the salt water. The darker fresh water reduces light penetration and so deeper water species such as black coral are able to thrive in shallower water. After a chronologically confused countdown to dive-time from Captain Dave, we splashed into the 20m visibility of Dusky Sound.
We were enthralled by the luminescent snake-star entwined black coral and dazzling displays of multi coloured sponges and anemones.
Some divers were less enthused with the curious seven-gilled sharks. Sue theorised that by turning off her torch she couldn't see the shark and so the shark couldn't see her.
Peter inadvertently got particularly up close and personal with the sharks on his daily swim – who could blame the sharks for being attracted to the sight of Peter clad only in speedos and a swimming cap. While many flattened themselves against walls to shrink away from the sharks, Judy took a divergent approach and swam after them on her quest for the perfect photo.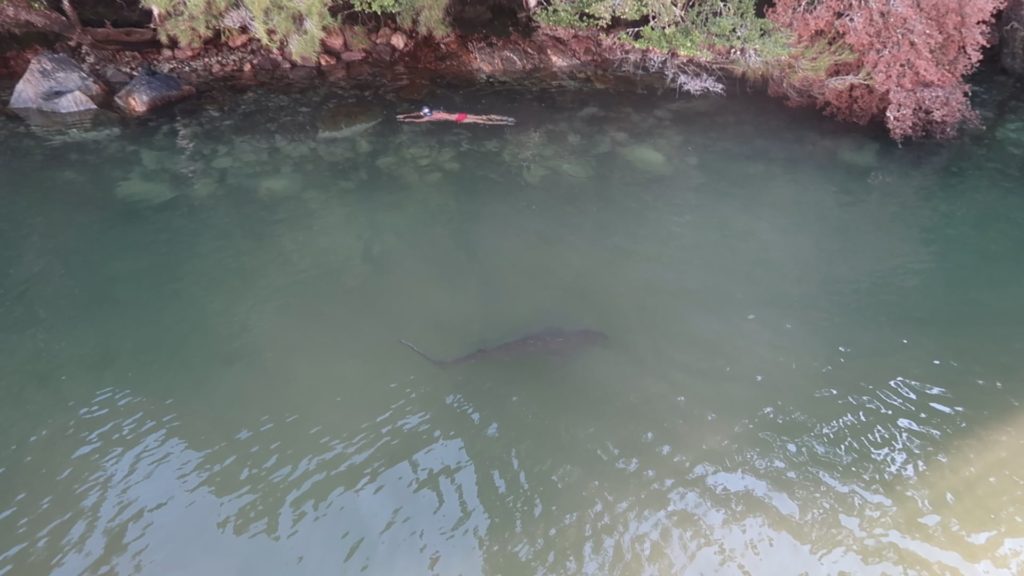 The wreck of the Waikare, a passenger steamship that came to an unfortunate end in 1910, was the home of schooling telescope fish, crayfish and anemones basking in the ethereal, shimmering light.
The tough and hardy wetsuit divers (Kevin, Mary, James and Alan) braved the 14 – 17 degree water temperatures with barely a whimper. Judy had a basic lesson in drysuit function, ascertaining that not closing the zip properly results in a flooded drysuit. Apparently it is not normal behaviour to complete a one hour dive in 14 degree temperatures while sodden wet.
The Sea Pens in Breaksea and Doubtful Sounds captivated us. Sue emerged from every dive and pronounced 'that was my favourite dive ever'. Sophie made friends with a photogenic shark-sized octopus and Chelydra was buzzed by elegant eagle rays.
Our resident meteorologist Brian gloated over the perfect weather (that he even predicted), with mountain reflections in the glassy calm water providing for yet more photographic opportunities.
Paul the shoeless warrior successfully disembarked his Air New Zealand flight, rode on the chopper and completed several shore walks, all whilst barefooted. Alan & Peter's bird-watching bromance (just to clarify, we're referring to ornithological bird-watching here) developed over their fascination with the swooping albatrosses, bobbing penguins, sociable robins & melodious bird tunes.
Achuro kept the food coming, ever patient with a multitude of varying dietary requirements. With first breakfast, second breakfast, elevenses, lunch, afternoon tea, an entree, main dinner course and then dessert, there was little chance of starvation. Meals were supplemented with abundant, freshly caught kaimoana with Claire sacrificing her hands to the cause when she caught crays wearing only thin gloves.
Thanks to the dive crew of Dave, Caleb and Achuro for getting us to the dive sites and keeping our tanks filled with air and our pukus full of quality kai. Cheers to Clare and Dive HQ for organising a phenomenal trip.
So great we are heading back again in 2022 – twice!
If you want to experience Fiordland for yourself please get in touch.
We have 2 trips heading south on the 24th of January and 11th of February.